#24 Chandler Burns
Nickname: Chip

Current age and Birthday: 21 years old, 11/10/2000

Hometown and State where you live: Botanic Ridge, Victoria
What is your day job? I work casually at CSA Specialised Services working with vacuum trucks.
What was your first bike? Yamaha PeeWee 50
Who was your hero growing up? Ryan Villapoto
When was your Pro debut? 2017
What bike/team/class did you ride for in 2021? KTM 250SXF, still as a Privateer in the MX2 Championship
What bike/team/class are you riding in in 2022? MX2 – Honda CRF 250R with the V83 RideRed team
List your sponsors: Honda, Bridgestone, Fly, SKDA, ETS race fuel, Knobby, Choice Suspension, Elite Dirtworx, NRP group, Beatons Pro Formula, JP Sports Physio
What do you do for training? Ride moto a lot, road cycle, run and follow my training programs
What has been your biggest achievement, racing highlight in your career: 11th overall at the first pro mx round last year.
Do you have any race day superstitions: Not so much race day superstition but I always put my right knee brace on first when I'm getting my gear on

What is your ultimate goal in the sport: I want to travel overseas and do some racing in Europe and America but for the moment I'm just focussed on getting closer to the front of the field in Australia
Who is your sporting idol: Ken Roczen.
Describe yourself: I am very focused and determined to achieve my goals yet enjoy the journey and keep it fun
When you're not riding? hit the green with some mates for some golf
Fun or interesting fact about yourself: During the pandemic in 2020 when we were all locked up I did a 24 hour cycle on Zwift
Before a race? do the same warm up routine
What social media platforms do you use:
Facebook: Chandler Burns #24
Instagram: @chandlerburns24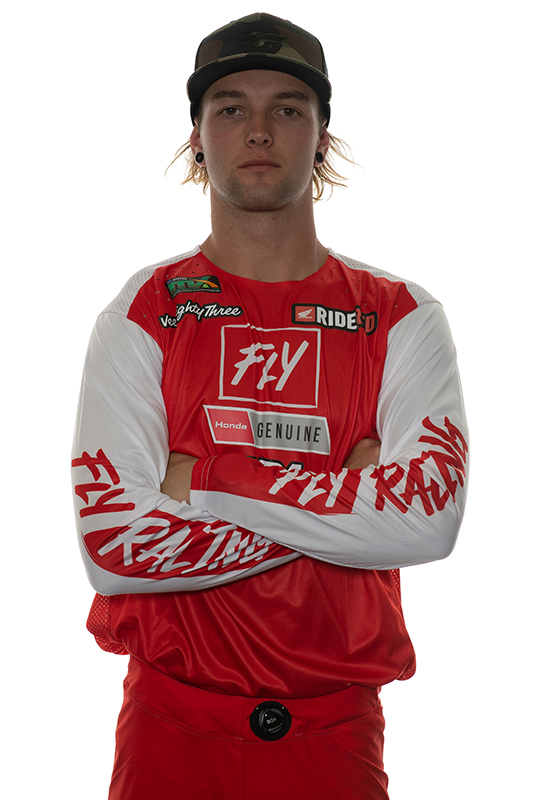 SHARE NOW
FANS

STAY UPDATED WITH ProMX NEWS