#5 Kirk Gibbs
Nickname: Gibbsy
Age and Birthday: 33 years old, 16/02/1989
Hometown and State: Sunshine Coast QLD
What is your day job: Racing Dirt bikes and helping out at TLC Recovery.
What was your first bike? Suzuki QR50
Who was your hero growing up? Jeremy McGrath
When was your Pro debut? 2007
What bike/team/class did you ride for in 2021? Honda CRF450R for the Honda Racing T Team in MX1
What bike/team/class are you riding for in 2022? KTM Racing Team
List your sponsors: KTM, Motorex, WP suspension, Dunlop, Snapon, Acerbis, Kite parts, VP fuels, Renthal, Twin air, Alpinestars, Terrafirma equpiment sales, progrip, POD, MXRP, Ford Dale elite
What do you do for training? Cycling, Gym & Mountain Bike
What has been your biggest achievement, racing highlight in your career: Winning the 2015 MX1 Australian title. Representing team Australia in the 2017 and 2018 Motocross of Nations, and winning the 2018-2020 New Zealand Motocross Championships
Do you have any race day superstitions: Not really, It is just habit now I just put my gear on a certain way. I always put left side on before the right side
What is your ultimate goal in the sport: To accomplish more than I ever dreamed I would
Who is your sporting idol: Many idols, are athletes at the top of their game because they have to be so good in their own individual way. I love to follow the top athletes who race dirt bikes.
Describe yourself: Very outgoing, light hearted, cruisy, like to have fun and enjoy life
When you're not riding? Spend time with my wife, relax, beach, movies and hang out with friends
Fun or interesting fact about yourself: My wife and I own a recovery business on the Sunshine Coast
Before a race? Like to listen to music
What social media platforms do you use: Facebook – @KirkGibbsFanPage & Instagram – @kirkgibbs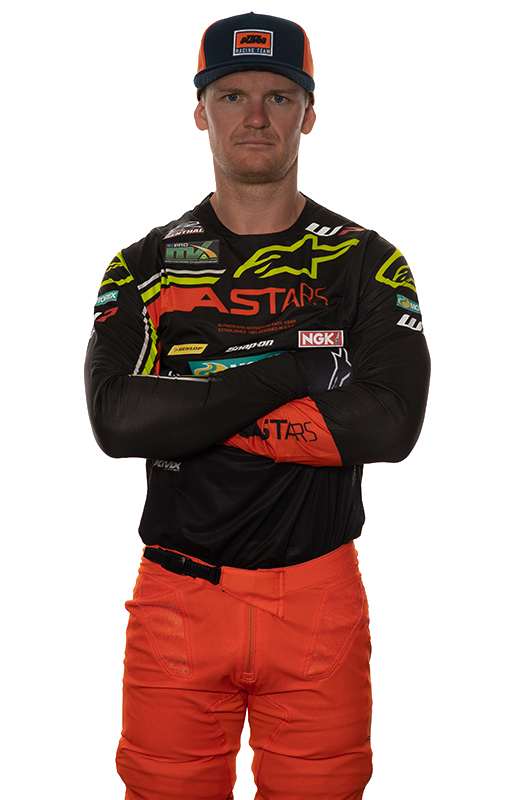 SHARE NOW
FANS

STAY UPDATED WITH ProMX NEWS