Troy Mora
Name: Troy Mora 58
Current age and Birthday: 15 years old 09/08/2005
Hometown and State: Cobden, Victoria
What is your day job? work for Dad trainee mechanic start apprenticeship soon
What was your first bike? pw50
What bike/team/class did you ride in in 2020? kxf250 & yz125 junior. mora mechanical racing
What bike/team/class are you riding in in 2021? kx250 junior 250a & mx3. mora mechanical racing
List your sponsors: mora mechanical racing, matt jones motorcycles, kawasaki motors, race ready suspension,kenda, liqui moly, ek chain, afam, holeshot hog motographics, fly, m2r, sidi, png, strikeseats, eze raceproducts, kaz motophotos, zaney films.
What has been your biggest achievement, racing highlight in your career? no real big achievement just steady progress over the years
Do you have any race day superstitions? not really
What is your ultimate goal in the sport? to become pro
Who is your sporting idol? the Lawrence brothers & Eli Tomac
Describe yourself in 20 words: pretty quiet some what shy around other people until i get to know them
Fun or interesting fact about you: like practicing doing monos on my mountain bike. I have 10 chickens that I have raised from baby chicks, I like chickens.
What social media platforms do you use: Instagram @troy_mora @mora_mech_racing Facebook mora mechanical racing and Youtube   zaney films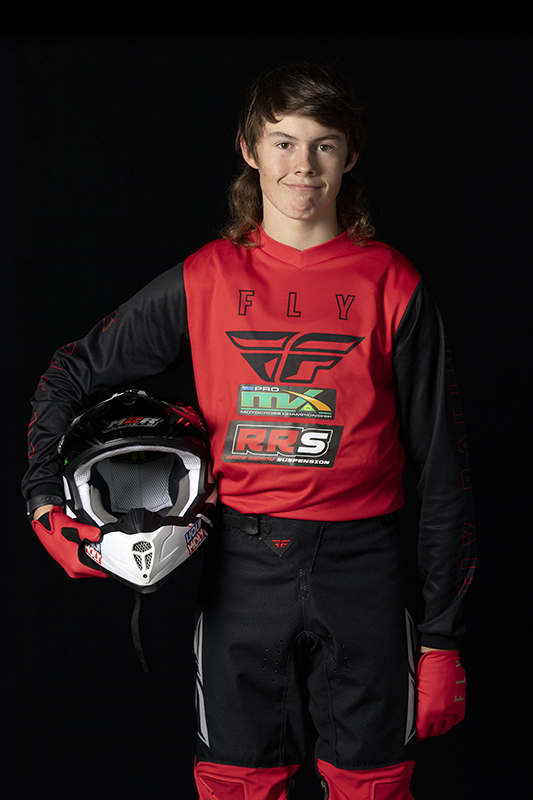 SHARE NOW