Dean Ferris And Wilson Todd Dominate At Coffs Harbour
The official "Retro Round" 6 of the 2022 Penrite ProMX Championship presented by AMX Superstores did not disappoint, as a technical and challenging Coffs Harbour race track gave riders and fans epic battles and on-track action all day long. With mid week rain clearing to a beautiful bluebird day, riders had to navigate a rutted race track that kept them on their toes. It was a battle of consistency and intensity across the Championship classes.
THOR MX1
The opening THOR MX1 Moto showcased the battle many have been anticipating with a trademark Holeshot from the #111, HRC Honda Racing Australia's Dean Ferris. Red Plate holder Aaron Tanti on the CDR Yamaha Monster Energy Yamaha was close in 2nd place from lap 1. From there it was go time, as the duo banged bars around the technical but fast Coffs Harbour track. Behind the lead duo, Matt Moss on the BBR Yamaha 102 Motorsports would crash on lap 1 in 5th position and be clipped by another rider, ending the Moto for the fastest qualifier from this morning's AMX Superstores Pole Shootout. At the 5-minute mark, Tanti would pull the trigger on passing Ferris for the lead, as Brett Metcalfe on the GO 24 KTM would pass Todd Waters on the Husqvarna Australia machine for 3rd position. As the middle laps of the Moto ticked off, Ferris began to close back in on Tanti and with 2 laps to go, pulled the trigger on an aggressive pass to retake the lead. From here, things began to unravel for Tanti, tipping over with 1 lap to go. As Tanti remounted, Metcalfe would pass for 2nd position and then KTM Australia's Kirk Gibbs would mount a monumental charge on the THOR MX1 field, going from 7th position on lap 1 to pass Tanti and take 2nd on the final lap. At the chequered flag it was Ferris with the win, from Gibbs, Metcalfe, Tanti and Husqvarna Australia's Todd Waters.
A frantic first lap ensued in Moto 2 of THOR MX1 with Ferris taking the Holeshot, followed again by Tanti in 2nd. Ferris and Tanti battled early in lap 1 before a big mistake from Ferris in a technical turn gave Tanti the room he needed to make the pass stick. Todd Waters, Kirk Gibbs and Empire Kawasaki's Jayden Rykers would also battle furiously over 3rd position in the opening laps. With a rapidly deteriorating race track, both Tanti and Ferris took several laps to find lines and establish a race pace before the 2nd half of the race battle began. Ferris began to inch up on Tanti and then pulled the trigger with 8 minutes to go with an aggressive inside line, cutting off Tanti's run in the ruts to the next corner. Behind the leaders, Kirk Gibbs established 3rd position early and laid down consistent laps to solidify another Moto podium finish. GAS GAS Australia's Hayden Mellross put on an inspired ride to charge through to 4th position late in the Moto, battling with Todd Waters. As the laps wound down, the chequered flag flew for Dean Ferris going 1-1 on the day and taking the overall victory. With Kirk Gibbs in 3rd position, he secured 2nd overall and Aaron Tanti's 2nd place in the final Moto gave him 3rd overall, maintaining the Red Plate as he leaves Coffs Harbour.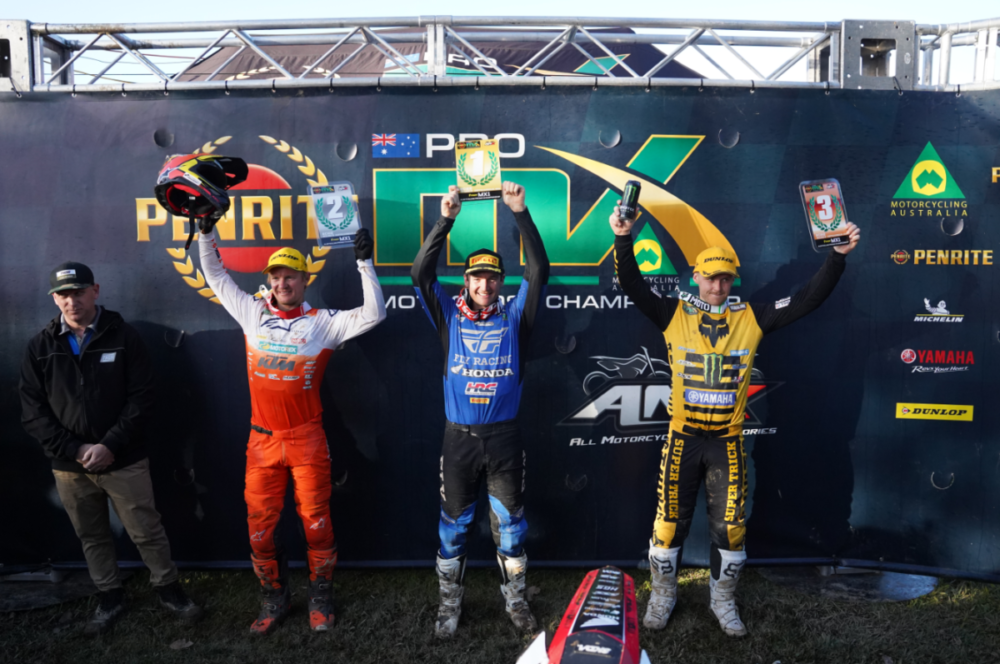 THOR MX1 Overall Podium
1st – Dean Ferris
2nd – Kirk Gibbs
3rd – Aaron Tanti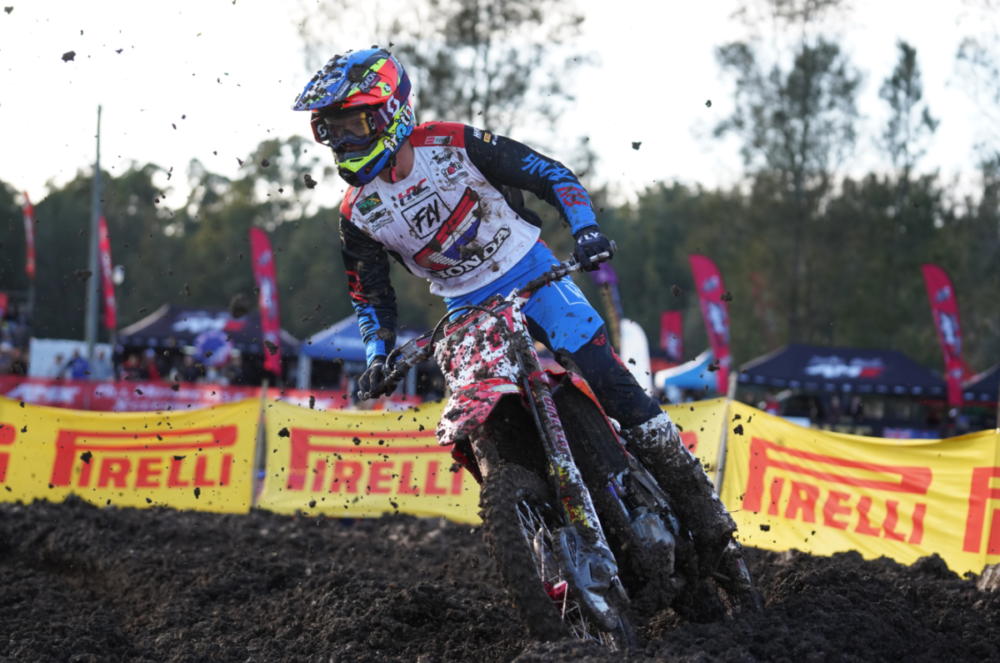 Pirelli MX2
As the gate dropped for Pirelli MX2, riders were presented with a race track giving more lines, options and passing opportunities than when they were last on track for the first qualifying session. Rhys Budd on the Yamalube Yamaha made his intentions clear to the field by taking the Holeshot and establishing strong track position early, with a several bike length lead at the conclusion of the first lap. Kaleb Barham on the MPE Husqvarna took his momentum from Maitland into Coffs Harbour, running first in 2nd place and then 3rd for half the race before a small mistake would see him move out of the top 5 by the chequered flag. Wilson Todd on the HRC Honda Racing Australia Crf250r took a few laps to figure out the track before once again putting on a clinic of speed and precision, passing Budd for the lead on lap 4 and never looking back. As Todd gapped the field, an incredible battle took shape between several contenders for the podium placings with KTM Australia's Nathan Crawford, the SERCO Yamaha duo of Jesse Dobson and Bailey Malkiewicz and Empire Kawasaki's Haruki Yokoyama. Crawford would be the first to fall from the top 3 and Barham would quickly follow suit a lap later. Malkiewicz would also fall from contention in this same cluster of laps as the technical Coffs Harbour track claimed more victims. As the racing settled down, it would be Todd who would cruise to victory, with Budd in 2nd, Yokoyama who took control of 3rd position, with Crawford rebounding to 4th from his fall on his first gate drop since returning from pre season injury. Dobson would round out the top five in 5th.
Moto 2 saw Pirelli MX2 Red Plate holder Todd take the Holeshot with Crawford close in tow. Crawford was marked as one of the riders who would challenge Todd for the 2022 Championship prior to his injury prior to Round 1. Although showing great speed on return from injury, Todd proved too strong, opening up a 5-second lead in the opening laps. Yamaha mounted Jayce Cosford continued to return to form running in 3rd position early, with WBR Bulk Nutrients Yamaha's Levi Rogers showing great speed in 4th early. As the laps progressed, Dobson would pass Rogers for 4th whilst the top 3 positions were solidified to the chequered flag with Todd taking his second victory of the day and the overall Round win. Crawford took 2nd in the Moto, mounting a late race charge to Todd which saw him close in to a couple of bike lengths at the finish. Cosford posted his first podium Moto finish of the season in 3rd, with Dobson and Rogers finishing 4th and 5th respectively. With another overall victory, Todd marches closer and closer to clinching the 2022 Pirelli MX2 Championship crown.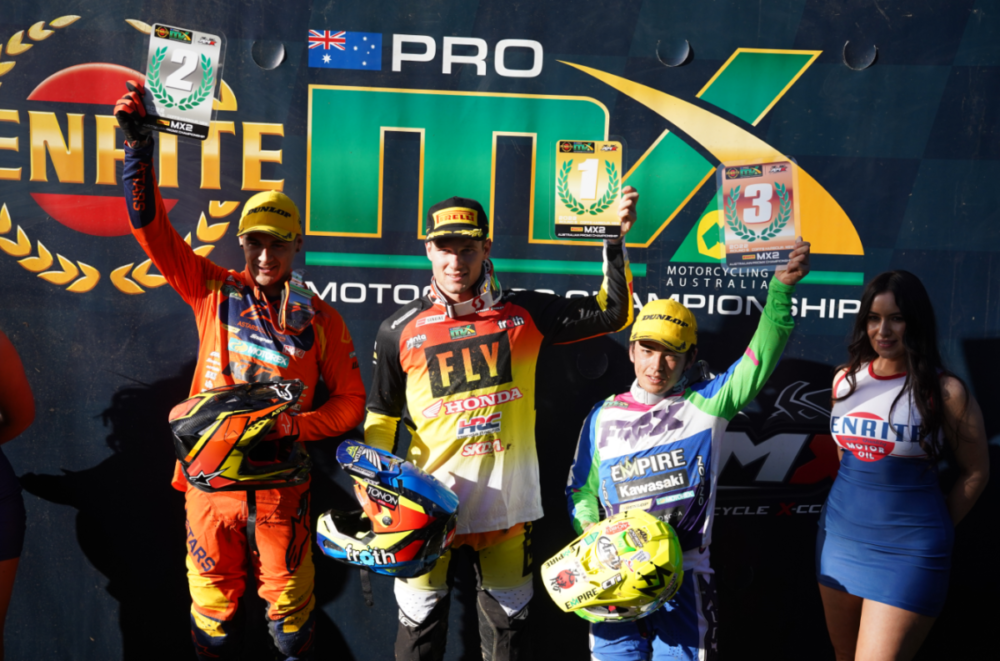 Pirelli MX2 Overall Podium
1st – Wilson Todd
2nd – Nathan Crawford
3rd – Haruki Yokoyama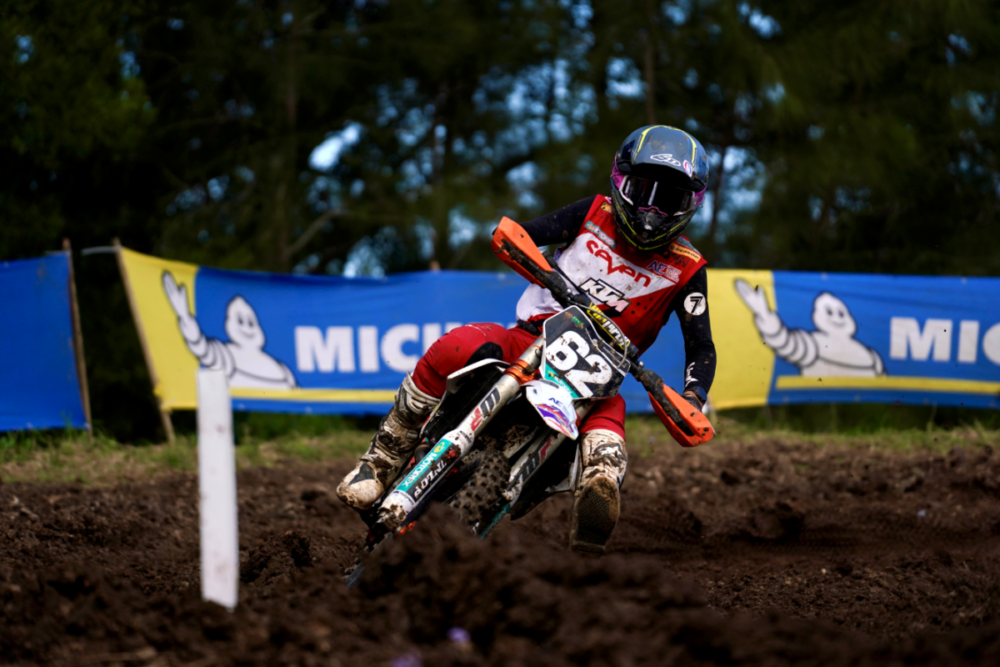 MAXXIS MX3
Jack Mather on the Husqvarna Australia machine would claim the opening Moto Holeshot and set his sights on clearing the track early in the race. KTM Newcastle's Connor Towill latched onto the back of Mather and in an impressive display of speed, took the lead position 5-minutes into the Moto, in a pass around the outside of Mather. Fastest Qualifier, KTM Australia's Ryan Alexanderson was on a mission, starting from outside the top 5 and systematically picking off each rider on his way to the front. With 5 minutes to go, Alexanderson would make the move stick on Connor Towill to take the lead and stretch out his authority on the MAXXIS MX3 field to the flag, taking the win. Behind Alexanderson it would be Towill in 2nd, as Mather crashed out of 3rd with only minutes remaining, allowing GAS GAS Australia's Byron Dennis through to the final podium spot in Moto 1.
Moto 2 would see a repeat opening sequence with Mather taking the Holeshot from Connor Towill. In Moto 2 however, Towill would waste no time in mounting another attack on Mather, scrubbing past to the lead only 3 turns into the race. As Towill stretched a 3-second lead by the halfway mark, Husqvarna Australia's Brock Flynn would move to 2nd and keep Towill honest, eventually closing the gap to just 1-second as the laps progressed. HRC Honda Racing Australia's Cambell Williams and Ride Red Honda's Ty Kean formed an epic battle for 4th position, before Kean would collect Williams in a slow turn mistake, handing 4th to Alexanderson. With 5-minutes to go, Towill would make a mistake giving the lead to Flynn, whilst  bunching up the field at the front. Ultimately Alexanderson was too strong and the Moto 1 winner would pass through to 1st position in the final 2 laps, taking 1-1 Moto scores and the overall victory. Flynn would ride to a solid 2nd position, as Towill would go down trying to make a pass for 2nd on the final lap. With Towill's crash, Flynn would take 3rd overall, as Mather claimed 3rd place, taking 2nd overall on the day. MAXXIS MX3 Red Plate holder, KTM Australia's Kayden Minear posted a consistent day away from his recent podium speed, posting 5-4 Moto scores, giving him 4th overall and keeping the Red Plate as he leaves Coffs Harbour.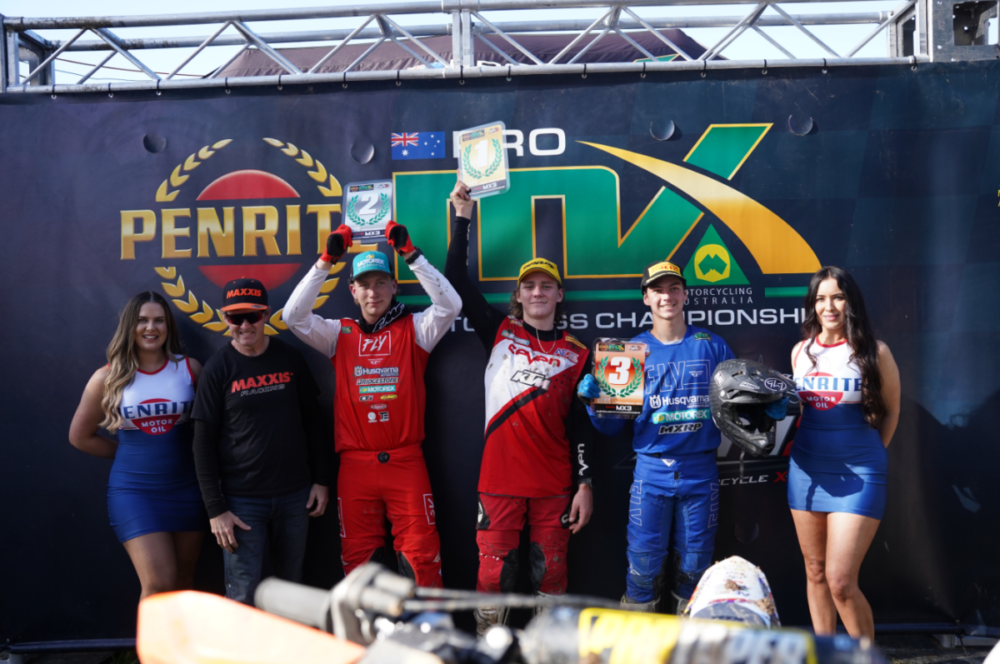 MAXXIS MX3 Overall Podium
1st – Ryan Alexanderson
2nd – Jack Mather
3rd – Brock Flynn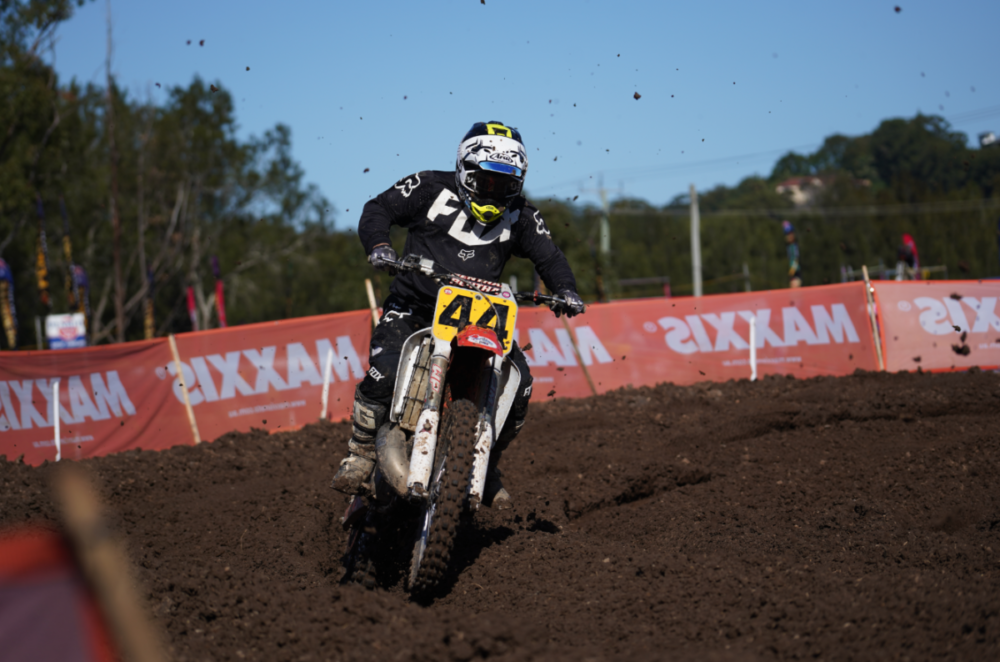 Pre 95 & Classic Evo Cup
The nostalgia and two strokes of yesteryear were on display to the delight of race fans at Coffs Harbour. In Moto 1, it was Brenton Inglis on the replace Chesterfield Yamaha Yz250 from the early 90's who would briefly battle Paul Grant before checking out for the win. A change of fortune in Moto 2 would see Inglis crash whilst leading the field into the first turn, taking a big impact and a DNF. Grant would dominate Moto 2 on his way to the chequered flag. In the final Moto, Grant and Inglis would battle early, with Inglis falling from contention, giving Grant his 2nd Moto victory of the day.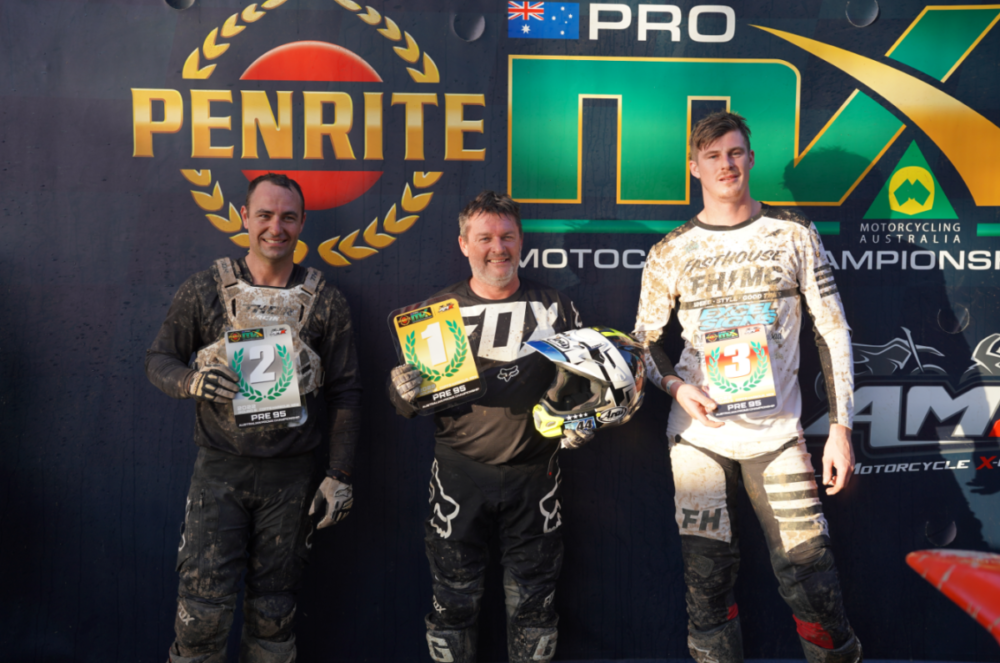 Pre95 Cup Overall Podium
1st – Paul Grant
2nd – Robert Byrnes
3rd – Alex Middleton

Classic Evo Cup
1st Overall – Steve Sweeney

The Penrite ProMX Championship presented by AMX Superstores now heads to Queensland Moto Park for Round 7 on August 14th, get your tickets via the following link: https://bit.ly/3zo5eMX
For Full ProMX results and points tables see: https://auspromx.com.au/results/
SHARE NOW
FANS

STAY UPDATED WITH ProMX NEWS