Flooringsales Suzuki announces 2021 Penrite ProMX Team
The Flooringsales Suzuki Team will return to racing in 2021 and has announced it's line up riders for the upcoming Penrite ProMX Australian Motocross Championship.
Returning to the team in the MX1 class will be 22 year old Connor Tierney from Western Australia. Teirney will pilot the 2021 RMZ450 in MX1, after signing with the team for the 2020 season, prior to national racing being placed on hold for the year.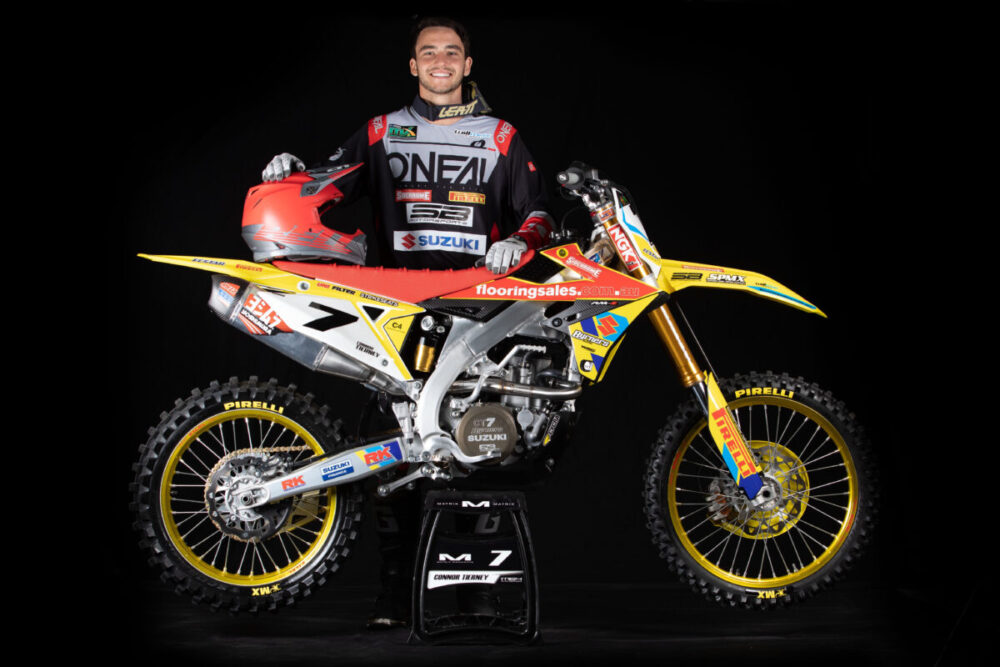 Tierney is no stranger to the podium at a national level and after multiple podiums and championship runs in the MX3 class over 2015 and 2016, several injury riddled years lead to a resurgent 2019 season that formed the speed and base for his Suzuki contract in 2020.
" It's great to return to the Flooringsales Suzuki team again this year" Tierney commented.
" Obviously I signed for the team in 2020 and everything was going great during the pre season events we raced. I felt I had a real shot at running up front at national level. But as we all know the year was cut short and the team and I never got to go racing."
" To be back with the team for the 21′ season is great, we are picking up where we left off last year. I have spent far more seat time on the RMZ450 which is a bike I really enjoy riding and we are ready to go. I'm excited to go racing again!"
The new addition to the team for 2021 is Benicio Caiafa, who will contest the MX3 class on the 2021 RMZ250. As a relatively unknown talent hailing from Victoria, Caiafa will make his rookie debut for the team in MX3 at Wonthaggi.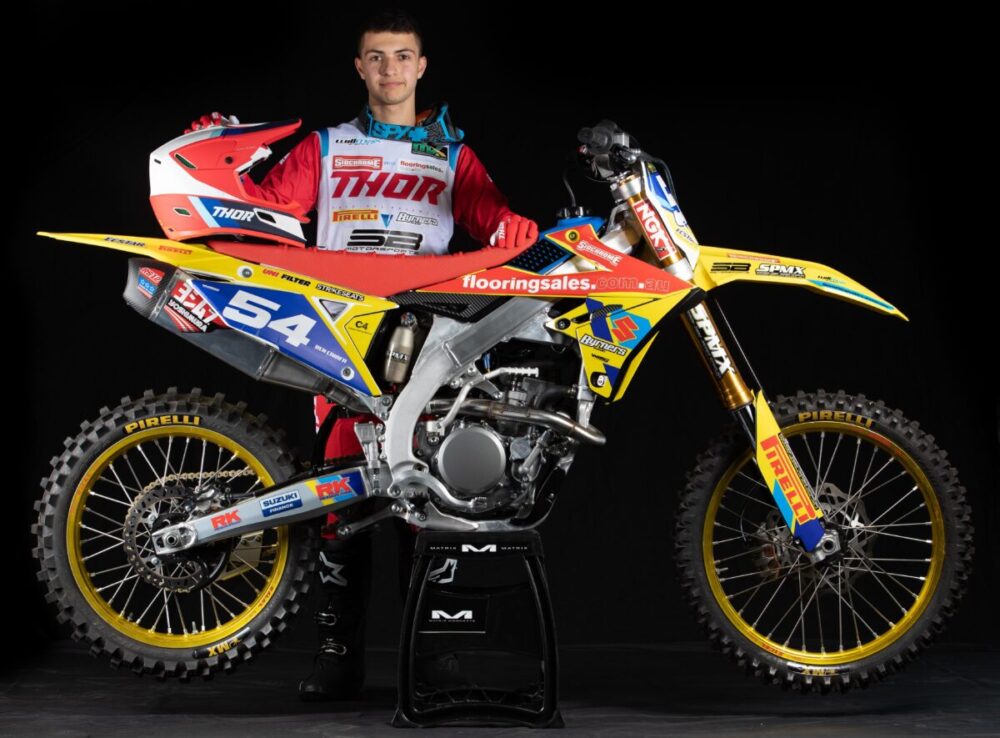 " I am thrilled at this opportunity that Flooringsales Suzuki and team owner Scott Brewtser have given me" Caiafa commented.
" As a junior I always dreamed of the chance of riding on a factory supported team and I feel extremely lucky to have the opportunity to be teammates with Connor, learn from him and represent our team sponsors to the best of my ability."
Team owner Scott Brewster also commented on the Flooringsales Suzuki team program for 2021.
" It is exciting that we are able to go racing again in 2021. As everyone knows it was tough for the industry with no racing in 2020 and I am extremely proud of our team, Suzuki and all of our partners for pulling together to make this year possible."
" With Connor, I see great potential in his speed and with how young he is, I think he can factor into the front pack battles this year whilst he learns how to manage a MX1 class series, which is a great position for us to be in. For Benicio, he is a young rider based closed to the team in Victoria who I felt needed an opportunity to go racing at a National level. There are very few opportunities for young riders to experience professional racing anymore in a low pressure environment and that is the framework we aim to provide via Suzuki and the team, in a model that will hopefully encourage more teams to give young riders and their families a chance to go racing".
You can learn more about Flooringsales Suzuki by visiting @sb_motorsports on Instagram.
Flooringsales Suzuki would like to thank our sponsors Flooringsales.com.au, Suzuki Australia, Byrners Motorcycles, Pirelli, Sidchrome, RK Chains and Sprockets, Willmax Graphics, Strike Seats, SPMX, Uni Filter and Ecstar Oils.
SHARE NOW
FANS

STAY UPDATED WITH ProMX NEWS