ProMX Welcomes EZILIFT MXW Class Partnership

Brandlines will expand its commitment to the Penrite ProMX Championship presented by AMX Superstores (ProMX) in 2022 with the addition of the EZILIFT Gas Struts brand as the new partner to the MXW class.
Brandlines are an industry leading automotive distributor supplying retailers nationwide with premium automotive parts and accessories. The latest addition to their catalogue of brands and products is EZILIFT, which is a Gas lift support. With the largest range in Australia of Gas Supports for vehicle tailgates, boots, hatches, trailers, ute covers, toolboxes and more. The Australian owned brand EZILIFT is now available in all major auto parts stores.
Mark Luksich, owner of Brandlines, the exclusive distributor of EZILIFT, commented on the partnership.
" We are excited to partner our new brand EZILIFT with the MXW class in the 2022 ProMx Championship. We see this as a fantastic opportunity to align EZILIFT with ProMX as we have been extremely happy with the brand awareness we have received from our other brands that are partnered with the Championship.
Our goal is to grow on the EZILIFT partnership over a multi year program that will see the brand grow alongside the emerging MXW Championship, as we collectively encourage more female racers with Motorcycling Australia and ProMX to commit to racing in the WMX class at a national level in 2022 and beyond", concluded Mr Luksich. 
Motorcycling Australia CEO Peter Doyle, welcomed the new partnership with EZILIFT and the WMX Class.
"We are thrilled to see Brandlines step up and further strengthen their relationship with the ProMX Championship with the addition of EZILIFT as the MXW class partner. We have strategically expanded on the MXW Championship calendar for 2022 and beyond and we are excited to see a new Australian brand emerging in EZILIFT that is as committed as MA and ProMX to expanding women's national Motocross racing", concluded Mr Doyle. 
EZILIFT is proudly supported by Brandlines Australia. Contact your local auto parts dealer today to learn more about the EZILIFT product range.
The 2022 Penrite ProMX Championship, presented by AMX Superstores, will make its highly anticipated return to racing this Sunday March 27th, at Wonthaggi in Victoria.
Fans can catch all of the action with the three-hour free-to-air TV coverage on SBS,the Stan Sport streaming HD broadcast and plus the ProMX TV Live Stream.
To stay up to date with the latest Penrite ProMX Championship, presented by AMX Superstores news, visit the ProMX Facebook, ProMX Instagram, and join the ProMX Championship subscriber mailing list by clicking the link HERE and entering your details.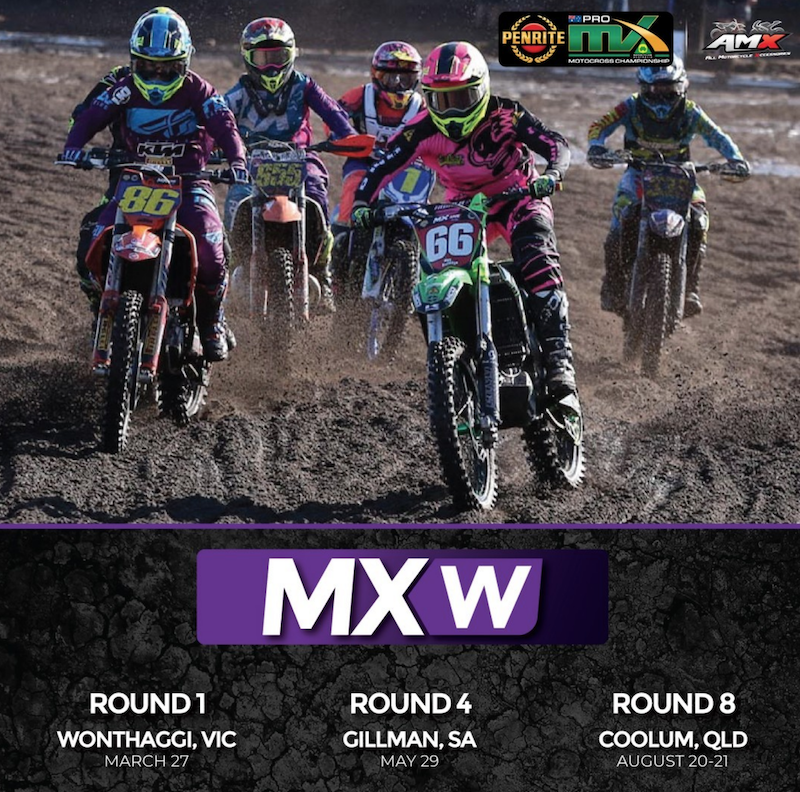 SHARE NOW
FANS

STAY UPDATED WITH ProMX NEWS